Private practice in Wells
I have a quiet, calm therapy room, set in the magnificent city of Wells in Somerset. I believe that a tranquil and comfortable environment is conducive to effective therapeutic practice.
I am fully insured for my professional practice and I work to the Centre of Transpersonal Psychology code of ethics.
There are convenient car parks nearby which are easy to get to.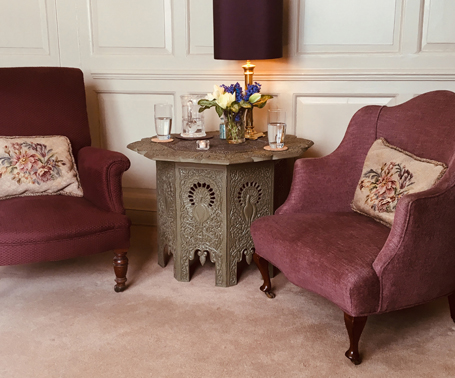 Continuing therapy online rather than in person can provide a valuable solution should travel to regular sessions in Wells be hard to achieve. Clients have found face-to-face therapy sessions via the internet extremely beneficial – I can work with Facetime or Skype or WhatsApp.
The Headache Clinic in Yeovil
I am also a member of a multi-disciplinary team at The Headache Clinic in Yeovil, where I work with Dr Mark Brickley (orthodontist + team leader) and Dr Martin Young (chiropractor).
All highly experienced in our own fields, we have developed a different, more comprehensive way of managing head and neck pain. Working together, we find we can help patients who could not be 'cured' by any one clinician working in isolation.
---
If you would like to find out more about how I can help you, please
Contact me
or call me on
07711 378292